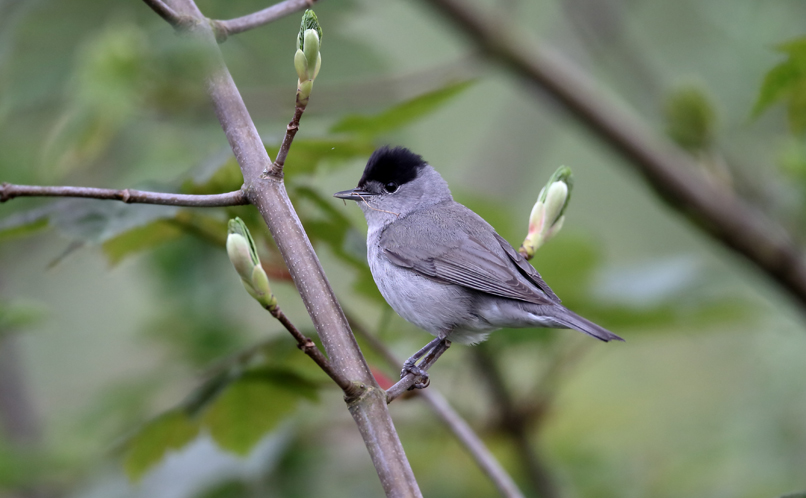 Blackcap
Sylvia atricapilla
With changing migratory patterns, the blackcap has become a more common winter visitor to these shores, but is regularly one of our most ubiquitous and widespread summer visitors. You're most likely to see a blackcap when the snow and ice of a cold snap makes food harder to come by. When this happens, the blackcap is forced to leave their preferred scrubby woodland and come to gardens in search for food.
Identification
Needless to say, the male blackcap has, wait for it, a black, cap (or crown). This rather bulky warbler has a mostly grey plumage, with slightly darker wings. The female however, does not have the distinctive black crown, but does have a similarly striking brown variation. The rest of her plumage is a light grey, with darker wings too, but tinged with brown.
Listen for a fluty song that rings out during the breeding season, and sounds a lot like that of the blackbird.
Feeding
In the spring and summer, the blackcap will feed on insects and other naturally occurring foods. When autumn and winter come, the blackcap will hunt out fruit offered by humans, and may visit bird tables for various feeds. In fact, it has even been known to fight off robins in order to get a meal!
Breeding
The blackcap breeds from April to August and nests in thick cover, down low. It lays 4-6 eggs, which are pale and can be identified by their fine spots. The blackcap incubates its eggs for 10-12 days, with the young then fledging after 10-13 days. One or two broods per season.
Did you know?
A juvenile blackcap has a reddy brown cap, whether male or female.
Often mistaken with...
The willow tit has a similar crown, however the longer tail and lighter plumage should help you separate the two.
Perfect for the Blackcap...